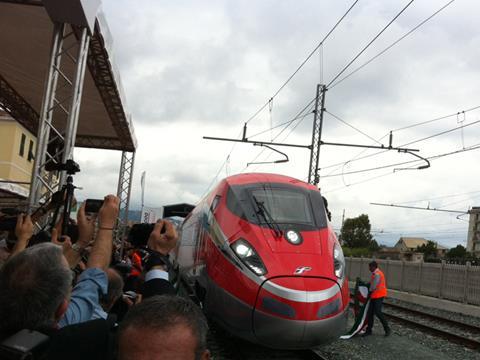 ITALY: The first Frecciarossa 1000 high speed train for national operator Trenitalia was displayed to invited guests at Bombardier Transportation's Vado Ligure plant on July 3, having completed its first run under its own power and ahead of the start of testing between Genova and Savona.
Testing is expected to be completed in 2014, before entry into passenger service in early 2015.
Trenitalia placed a €1·54bn order for 50 ETR1000 trainsets with a consortium of Bombardier and AnsaldoBreda in September 2010. Bombardier is responsible for conceptual design, bogies, traction equipment and control systems, with AnsaldoBreda undertaking detailed design and assembly.
Bombardier claims the V300Zefiro is 'the fastest train in Europe', capable of service speeds up to 360 km/h and running in excess of 400 km/h during testing. It is designed to offer high acceleration for use on sinuous routes, and to be fully interoperable for cross-border services.
The eight-car trainset has a total capacity of 485 passengers across four classes, with two additional tip-up seats for wheelchair users, and a bistro. Two trainsets can work in multiple.