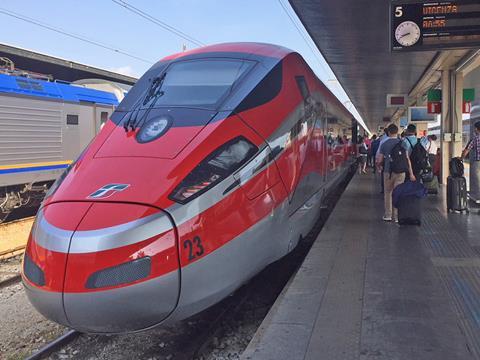 ITALY: Hitachi Rail has signed a €861m contract to supply Trenitalia with a further 30 ETR1000 high speed trainsets. There is a €287m option for another 10 in addition.
Announcing the order on November 10, Hitachi said the trainsets with a design speed of 350 km/h will be used primarily on the Italian high speed network, but would also be able to operate on high speed lines in France, Germany, Spain, Austria, Switzerland, Belgium and the Netherlands, switching 'seamlessly' between power supplies and signalling systems.
They will be manufactured at the company's factories in Napoli and Pistoia for delivery from spring 2026 at a rate of eight to 10 trainsets per year.
The latest contract takes the total number of ETR1000s ordered by Trenitalia to 94; 58 have been built since 2010, and a further six are on the way.
The 30 trainsets in the latest order will retain the main characteristics of the previous ones, including the red livery, but will have an updated interior with 'cutting-edge' features 'that we are sure will be appreciated by passengers and our customers', said Hitachi Rail Group COO Luca D'Aquila.