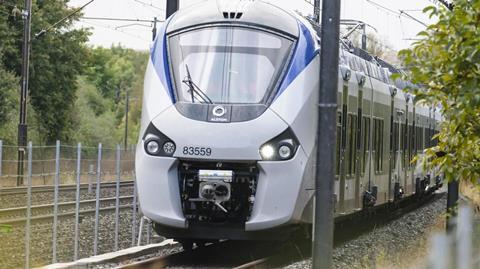 FRANCE: The Grand Est region has placed a €360m order for a further 39 Alstom Coradia Polyvalent electro-diesel multiple-units for delivery in 2022-24.
The order announced on October 22 includes 30 four-car units to be delivered from the end of 2023 for use on cross-border services to Saarland, Rheinland-Pfalz and Baden-Württemberg.
The 160 km/h units will therefore have to comply with German safety requirements. Equipped for diesel, 25 kV 50 Hz and 15 kV 16·7 Hz operation, they will include a first class area and spaces for bicycles. They will meet TSI PRM 2014 accessibility standards, including a more spacious toilet.
The order also includes five four-car and four six-car units for use on French domestic services. These will be similar to the 40 Coradia Polyvalent trains previously ordered by the Grand Est region, 36 of which have now been delivered.
This is the second order for Coradia Polyvalent units for cross-border services, with Auvergne-Rhône-Alpes having ordered 17 EMUs for use on Léman Express services to Switzerland from December 2019.
A total of 387 Coradia Polyvalent units have now been ordered under a framework agreed by Alstom and SNCF in October 2009. Nine regions have ordered a total of 320 units for regional services, which SNCF brands as Régiolis. The national government has ordered 67 Coradia Liner trainsets for use on longer-distance TET services. Algeria's SNTF has also ordered 17 units, and Senegal's APIX 15.
Design is undertaken at Alstom's Saint-Ouen site, with assembly at Reichshoffen, traction equipment supplied from Ornans and Tarbes, bogies from Le Creusot and electronics and signalling equipment from Villeurbanne.