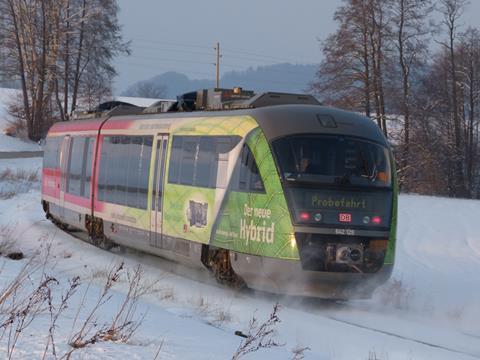 ENGINE: A 15% reduction in fuel consumption compared to a conventional diesel multiple-unit was achieved by Deutsche Bahn's VT642 test DMU when MTU undertook trials with a hybrid version of its PowerPack.
MTU's PowerPacks combine a DMU engine with electric, mechanical or hydraulic transmission, after-treatment, auxiliaries and cooling systems into a single unit mounted on a support frame. The Hybrid version adds an electric propulsion module with battery, power electronics and a control system. MTU has now delivered more than 6 000 conventional PowerPacks, and hopes the hybrid version can also achieve a firm foothold in the market.
Trial runs totalling 2 300 km were undertaken between January and March on the 26 km Staudenbahn in Bayern. MTU used the tests to verify 70 scenarios which it had previously simulated in order to determine how the hybrid system would respond to different conditions, and how the DMU could be operated most efficiently.
MTU believes that further fuel savings would be possible on a route with a profile which is more favourable for regenerative braking. Hybrid PowerPacks could also be combined with overhead electrification to produce an electro-diesel hybrid.
'These test runs represent a milestone in this project as a whole,' said Dr Ingo Wintruff, Vice-President Propulsion & Power Generation, Head of Rail, Mining, Oil & Gas Business at MTU. 'A fuel saving of 15% is a fantastic result and means that under optimum conditions, 20% to 25% should be possible.'
The trials showed that noise from a moving train could be reduced by five decibels, 'a clearly noticeable reduction', while the noise of a stationary DMU was 21 decibels lower, because auxiliary systems were powered by the batteries with the engine switched off.