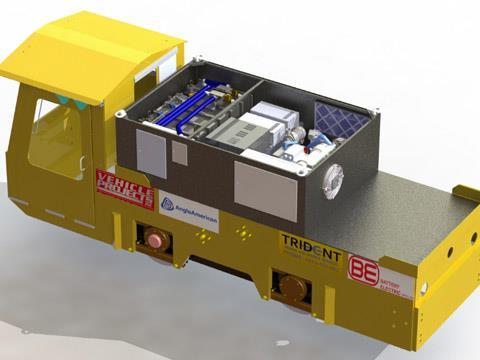 SOUTH AFRICA: Five fuel cell locomotives are under construction as demonstrators for use underground at Anglo American Platinum Ltd's Dishaba mine.
Lead contractor Vehicle Projects Inc is undertaking engineering design, fabrication and testing of the fuel cell power plant in the USA. Completed units will be delivered to Trident South Africa for installation on 10 tonne New Era mine locomotives, with integration and testing to be supported by local firm Battery Electric.
The locomotives will feature a hybrid fuel cell powerpack with proton-exchange membrane stacks and lithium-ion batteries. Continuous net power rating of the fuel cell is 17 kW and, acting in combination with the traction battery, the maximum net power is 45 kW for approximately 10 min, the company says. The complete traction module, comprising fuel cells, batteries, hydride storage, colling systems and power electronics occupies a space of 1 m3. Each locomotive will have 0·3 m3 of reversible metal-hydride storage, which will provide 'dense and safe storage' for 3·5 kg of hydrogen, enough to produce 50 kWh.
In 2009 Vehicle Projects and BNSF produced a fuel cell-powered shunting locomotive for testing in the USA (RG 2.09 p36), and in 2002 the company developed what it says was the first fuel cell mining locomotive for Placer Dome in Canada.