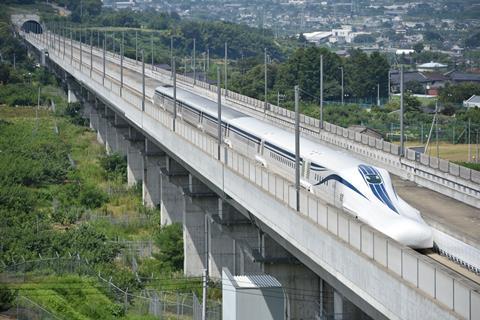 JAPAN: JR Central began trial running with its latest Superconducting Maglev Series L0 vehicles at the test guideway in Yamanashi prefecture on August 17.
Unveiled at Hitachi's Kasado works in April, the 'improved' prototype for the Series L0 maglev vehicles intended to operate the Chuo Shinkansen route between Tokyo, Nagoya and Osaka has a modified front end to reduce air resistance. According to the operator, a 13% reduction in air resistance compared to the previous design would significantly reduce noise and power consumption.
JR Central had been expecting to start running tests with the new vehicles in May, but the schedule was delayed as a result of the Covid-19 pandemic. A seven-car set has been formed for the resumption of trial running, with the three new vehicles marshalled at the Tokyo end of the formation and four of the existing Series L0 test cars at the Nagoya end.