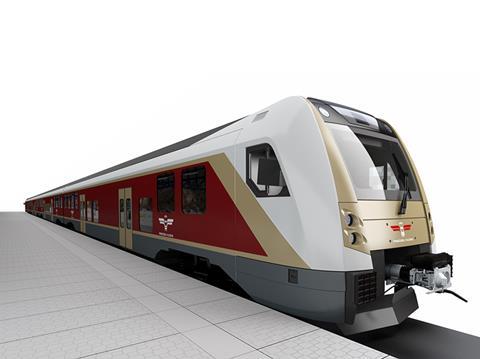 LATVIA: National passenger operator Pasažieru Vilciens has signed the €240m contract for Škoda Vagonka to supply a fleet of 32 dual-system EMUs for the Riga suburban network, the manufacturer announced on July 30.
Škoda Vagonka was named as preferred bidder in February, after procurement monitoring agency IUB blocked an earlier decision to award the contract to Talgo. The Spanish company had been named preferred bidder in November, but that selection was overturned following appeals from both Škoda and CAF.
Able to carry up to 400 seated and 450 standing passengers, the 1 520 mm gauge single-deck trainsets are due to be delivered in 2022-23. The dual-system EMUs will be able to use the existing 3 kV DC overhead line equipment on the suburban routes from Riga to Aizkraukle, Tukums, Skulte and Jelgava, and will also be able to run at up to 160 km/h on the inter-urban routes from Riga to Krustpils, Daugavpils and Rēzekne which national railway LDz is electrifying at 25 kV 50 Hz for completion by the end of 2023.
According to the manufacturer, its proposal offered the best deal in terms of life-cycle costs over 35 years, including the capital cost, maintenance and energy consumption. Škoda Vagonka says it is looking to work with local companies 'to commission the trains and provide subsequent service and maintenance throughout the vehicles' life cycle, which is at least 35 to 40 years'. The supply contract also includes the provision of spare parts and training.
'This important contract with Pasažieru Vilciens demonstrates once more that our company has offered the economically and technically best solution for modern trains', said Škoda Vagonka Chairman Martin Bednarz. 'Our units are already operating in the Czech Republic, Lithuania, Ukraine and Slovakia, and now passengers in Latvia can also look forward to them.'