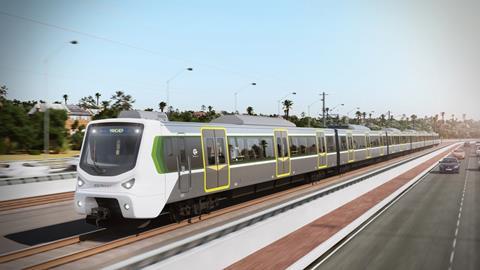 AUSTRALIA: Public Transport Authority of Western Australia has formally signed the A$1·3bn contract for Alstom to supply and maintain diesel and electric multiple-units for use around Perth.
Announcing completion of the deal on December 10, PTA said the biggest rolling stock contract that it had placed had come in A$347m under the original budget.
Alstom had been named preferred bidder in August, beating bids from the Momentum West consortium of CAF and UGL and a joint venture of EDI Rail and Bombardier.
The order covers the supply of 41 six-car C-series EMUs which will enter service on Perth suburban routes from 2022, and two three-car DMUs to operate on the twice-daily Australind service between Perth and Bunbury from 2022-23.
The agreement includes 20 years maintenance of the EMUs and the provision of maintenance support services for the DMUs. There are options for an additional 30 EMUs and two options to extend the maintenance deals by five years.
The 1 067 mm gauge EMUs with a maximum speed of 130 km/h will be based on Alstom's X'Trapolis family. They will have a capacity of approximately 1 200 passengers, with three double doors per car side for rapid passenger flow, a mix of seating styles, LED lighting, USB charging points and regenerative braking.
Local content
The vehicles will be produced at a site near the closed Midland Railway workshops in Bellevue for delivery over seven years starting in 2022. Maintenance will be undertaken at PTA's Nowergup depot, making use of Alstom's HealthHub predictive maintenance tools.
PTA requires 50% of the contract value to be spent in Western Australia. As part of this, Alstom said it would transfer the latest technologies to establish 'the most technologically advanced train manufacturing and maintenance sites in Australia.'
Several contracts have already been awarded to local companies, including a AS$850 000 order for Eilbeck to supply four cranes and a A$3·8m contract for Vector Lifting to supply lifting jacks and bogie handling equipment.
Ling Fang, Alstom's Senior Vice-President Asia Pacific, said the project 'provides a unique opportunity for Western Australia to manage Perth's projected future growth while re-establishing its railway manufacturing industry, creating jobs, investing in infrastructure and supporting local manufacturing and supply chains'.
This would include the provision of fast-tracked training programmes in partnership with local organisations. The project is expected to create more than 120 jobs in Western Australia, with 15% being for apprentices and aboriginal workers.