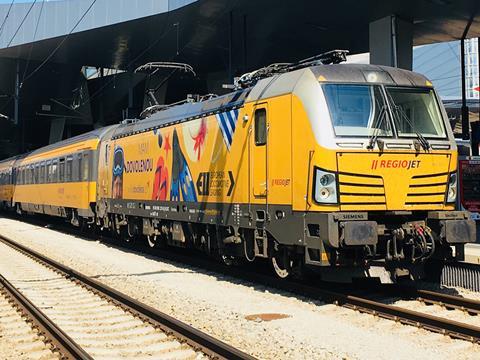 EUROPE: RegioJet has bought 18 couchette cars from Deutsche Bahn, which it intends to use to lengthen its night trains on the Praha – Košice route to up to 18 vehicles with a capacity of up to 1 000 passengers per train.
The fleet expansion follows a successful bond issue in June which raised €40m.
The open access operator said the 200 km/h air-conditioned vehicles with retention toilets would require 'minimal adjustments' before being put into service. Some are already adapted for wheelchair-using passengers, with wide doors and an accessible compartment and toilet.
RegioJet has also acquired another Siemens Vectron locomotive to haul the heavy trains through the High Tatra region of Slovakia.
'More passengers are using our trains, so we are investing heavily in the development of our fleet', said Petr Kohoutek, Chief Financial Officer of RegioJet's parent company Student Agency Holding, on July 15.
In the first half of the year RegioJet carried 3·1 million passengers on its long-distance trains in the Czech Republic, Slovakia and Austria, a 12% increase compared to the same period in 2018.
'Occupancy of our trains has been growing, and our trains have become the first choice for customers also on the lines from Praha to Brno, Bratislava and Wien', said Kohoutek. 'Therefore, we are currently preparing the acquisition of up to 100 more cars, so that we can further increase our capacities. Thanks to the increase in the number of passengers, we also expect to increase of our profit this year by millions of euros.'