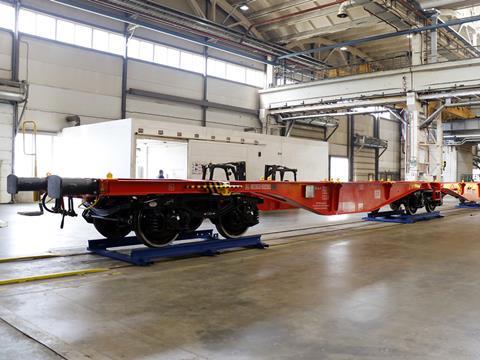 GERMANY: The first of 160 articulated flat wagons which Deutsche Bahn has ordered from United Wagon Co's Tikhvin factory in Russia have been sent for testing, with TSI certification expected by the end of the year
Static testing and trial running is to be undertaken over several months, with a particular focus on longitudinal and vertical stresses on the frame, shock absorption when empty and loaded, braking performance and movement on curving routes.
Designed by UWC's All-Union Research & Development Centre for Transportation Technology to be lighter than older models currently in service in Europe, the 1 435 mm gauge Type Sggrs80 wagons offer a 22·5 tonne axleload and a capacity of 108·6 tonnes, enabling them to carry ISO containers, tank-containers and swap bodies with a gross mass of up to 36 tonnes.
UWC CEO Timofey Khryapov said working with DB was an important step towards the manufacturer's strategic goal of strengthening its position in international markets.
DB approved UWC as a potential supplier following an audit last year, and what the Russian firm described as a 'major breakthrough' order for the initial batch of wagons was announced in November.
'As we are planning to develop our freight division, we will soon need an additional fleet of wagons and locomotives', said Uwe Günther, Chief Procurement Officer at DB, when testing of the first completed wagons was announced on August 21. 'Since German manufacturers cannot fully meet our demand for rolling stock, we seek to collaborate with other companies, including Russia's UWC. When choosing a supplier, we look first and foremost at the quality of the product being offered to us, and whether the manufacturer meets the requirements of certification bodies and of our customers. I would like to point out that UWC meets all of these requirements. The cars we saw today received high praise from our team and will now be able to undergo a full series of tests at our testing facility. We hope the results will meet our expectations.'