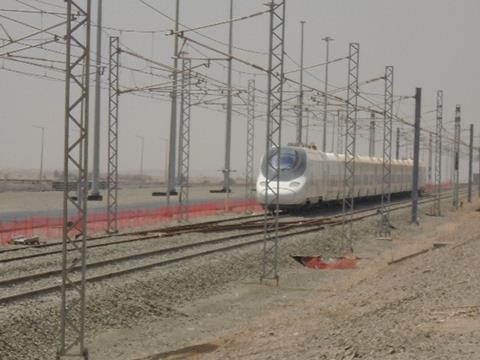 SAUDI ARABIA: Saudi Railways Organization has announced that 'following the reassessment of our rolling stock needs' it has decided not to proceed with an order for six 200 km/h Talgo diesel trainsets for use on the Riyadh – Dammam line.
The US$201m contract was announced on February 12 but will not now be signed, SRO said on July 15. A final decision regarding a new tender will be made once SRO's internal analysis of its needs is finalised.
Talgo said the cancellation of the order would not cause a substantive change in its economic projections for the 2015 and 2016 financial years.
Thanking Talgo for its understanding, SRO emphasised 'its appreciation' for the company as the supplier of the trainsets for the Haramain high speed line. Three months of test running with a Talgo 350 trainset have now begun at King Abdullah Economic City, following the rectification of problems with the overhead electrification in June.