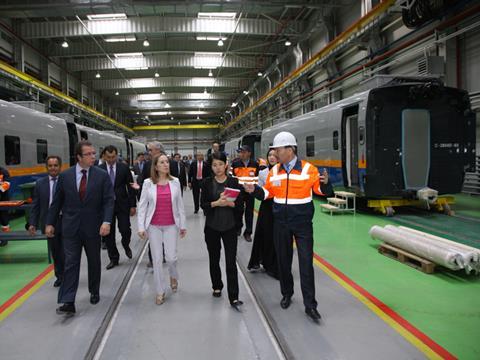 KAZAKHSTAN: Spanish rolling stock manufacturer Patentes Talgo and its local joint venture Tulpar-Talgo have been awarded a contract worth €482m to supply 603 long-distance coaches to the passenger business of national operator KTZ. The contract was signed on June 26 during a visit to Kazakstan by Spanish Development Minister Ana Pastor, which included a tour of the Tulpar-Talgo plant in Astana.
Designed to operate at up to 200 km/h in local conditions where temperatures can fall as low as -50°C, the coaches will be formed as 21 trainsets. According to Talgo, they will comply with the common standards currently being developed by Kazakhstan, Russia and Belarus.
Production is due to take place in 2015-19, starting at the Talgo plants in Rivabellosa and Las Matas in Spain and progressively transferring to the Tulpar-Talgo factory in Astana. In 2012 Talgo had signed a €1bn contract to maintain KTZ's new fleet over a period of 15 years.