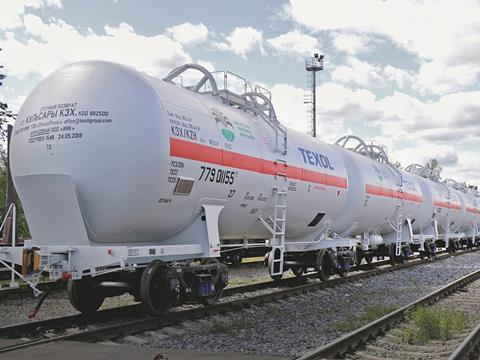 KAZAKHSTAN: Texol Group has awarded United Wagon Co a contract to supply 400 Type 15-9541-01 articulated liquefied petroleum gas tank wagons by the end of March 2021.
The Russian manufacturer said the wagons designed by its All-Union Research & Development Centre for Transportation Technology and manufactured at its TikhvinChemMash plant are unique in the CIS market. They are 24 m long with three 25 tonne axleload bogies, offering a capacity of 90 tonnes and an 'impressive' volume of 163·1 m3, UWC said. They are designed to help reduce costs for shippers, enabling the capacity of trains to be increased without requiring major investment in the infrastructure.
The latest order was agreed at the Pro//Motion.Expo trade fair in Moscow at the end of August. It follows a similar contract which was signed at the start of the year, and takes Texol's total order to 800 wagons of this type.
'We have a stable flow of orders for LPG transport on both domestic and international routes spanning long distances, primarily from Irkutsk Oil Co', said TexolTrans board member Sergey Gorsky. 'To handle the traffic, we need modern rolling stock that ensures high efficiency.'
'We have been replenishing our fleet with these tank cars since the start of the year and they have shown positive operating results', he added. 'This motivated us to purchase another batch. We firmly believe our business relations with UWC will persist as a long-term, robust and mutually beneficial co-operation.'