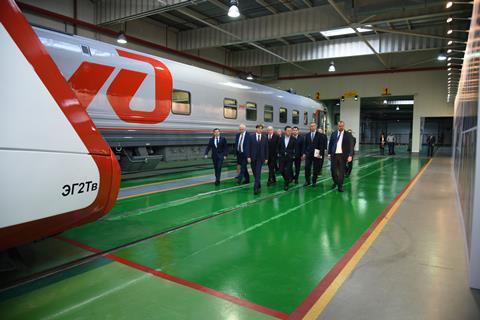 KAZAKHSTAN: Russian manufacturing group Transmashholding displayed examples of its passenger rolling stock at the Tulpar factory in Nur-Sultan on March 10.
Guests included senior management from national railway KTZ, its passenger division, private operators and national technical organisations.
On show were modern designs of single and double-deck coaches, including a paired set of coaches, a mail car and an escort coach, as well an Ivolga suburban electric multiple-unit, a RA-3 diesel multiple-unit and a TEM28 shunting locomotive.
TMH said the rolling stock selected provided a 'modern outlook on transport engineering', making use of the latest technology, materials, safety features and passenger facilities.
'There is so much here for the convenience, comfort, and safety of passengers: power outlets, safes, key cards, video surveillance, a creative playground for kids in the double-decker; all this represents the right way to serve passengers', said Satjan Uzbekov, Chief Expert of the Committee of Technical Regulation & Metrology of the Republic of Kazakhstan.
TMH has supplied KTZ with main line and shunting diesel locomotives, AC EMUs and coaches, and the supplier holds stakes in the EKZ electric locomotive plant and the LKZ diesel locomotive plant.