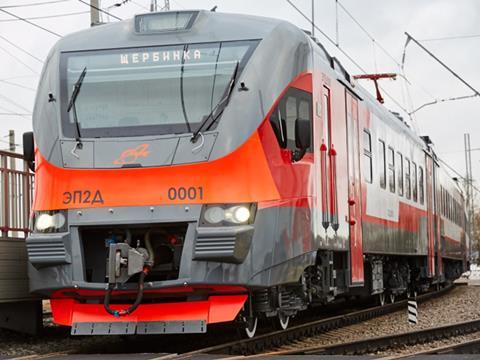 RUSSIA: Transmashholding's Demikhovo plant has unveiled the EP2D electric multiple-unit, developed to the specification of Moscow commuter operator Central Suburban Passenger Co which is DMZ's largest customer.
The first unit is to undergo trials at the Shcherbinka test circuit with certification expected in 2016. Central Suburban Passenger Co said the design appeared to be suitable for use on Moscow commuter services, but a firm order would depend on the manufacturer completing the certification process and winning a tender for the supply of new rolling stock.

TMH said the new DC EMU is designed to comply with technical standards coming to force in Russia, Belarus, Kazakhstan, Kyrgyzstan and Armenia in August 2016. It incorporates new technologies offering a 20% reduction in energy consumption compared to previous designs, with lower noise and vibration in the passenger saloons and improved crash protection in the driving cars.

Versions of the EP2D customised for long-distance, suburban and urban applications are proposed by the manufacturer, including two or three-car units suitable for lightly used routes, or sets of up to 11 cars with a capacity of 2 866 passengers for busier routes. AC and diesel-electric versions are also planned.

The EP2D is suitable for use at stations with high or low platforms. The seats are designed to be more comfortable than previous models, and the interior has luggage shelves, passenger information systems and HVAC which does not require air ducts on the roof. The windows are secured without rubber seals, and can be replaced in less than 2 h compared to up to a day for past designs.

The 'state-of-the-art' cabs have an updated design with a detachable ladder intended to prevent unauthorized persons climbing onto the roof.

According to TMH the EP2D has more than 90% domestic content, supplied by over 50 Russian companies. This is expected to increase to close to 100% during 2016, reducing the risk to customers from exchange rate changes or international embargoes.