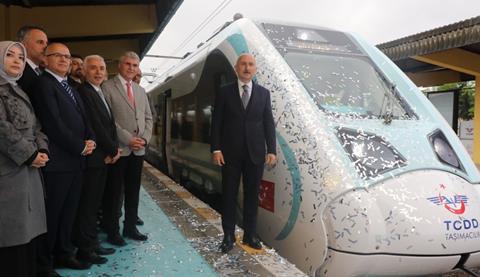 TURKEY: TCDD Taşımacılık has put into service the first National Train domestically designed and manufactured electric multiple-unit.
The 25 kV 50 Hz EMU entered service on May 27 on the route between Adapazarı in the northwest and Gebze on the eastern outskirts of Istanbul.
The National Train will make five daily return trips along the 100 km route, operating at up to 160 km/h and serving 11 stations.
The EMU has been developed and produced by state-owned rolling stock supplier Türasaş with design assistance from national scientific and technological research body Tübitak. It has been designed to comply with European Technical Specifications for Interoperability and to achieve an axleload of less than 18 tonnes.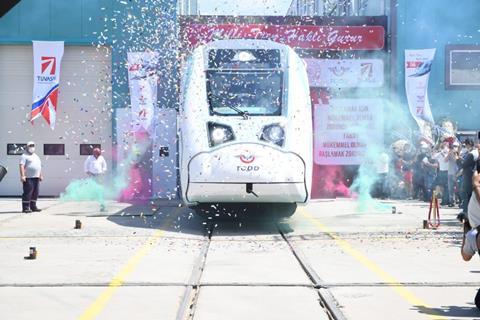 It has five aluminium-bodied cars, including one for first class accommodation and a buffet car. It has a total of 324 seats, two spaces for passengers with reduced mobility, LED lighting and five toilets.
Principal subcontractors on the project include Aselsan, which has designed the onboard train control and traffic management systems, and Bozankaya, which supplied bogies. The traction equipment was produced in-house by Türasaş.
After a gestation period lasting several years, the National Train had been due to enter traffic in 2020, but this was delayed by the Covid-19 pandemic and by the formation of Türasaş itself. The company has been put together from a merger of three other state-owned vehicle manufacturers: passenger coach builder Tüvasaş, locomotive specialist Tülomsaş, and wagon builder Tüdemsaş.
Speaking on May 27 at the ceremony marking delivery of the EMU to TCDD Taşımacılık, Transport Minister Adil Karaismailoğlu said that the National Train could be produced in three, four, five and six-car formations for deployment on regional or inter-city routes.
He said that as the EMU holds TSI certification, it could also operate on rail networks within the European Union, but he made no comment on possible export plans.
To date, two pre-series prototypes and the one production trainset have been completed. In April Karaismailoğlu said four more trains would be operating by the end of 2024, rising to 15 by the end of 2025 and 56 by the end of 2030.