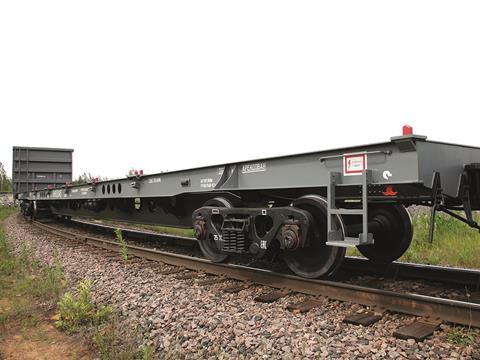 RUSSIA: Deltatrans has begun taking delivery of 60 Type 13-6903 wagons ordered from United Wagon Co.
The wagons are designed for carrying heavy containers with a gross weight of up to 36 tonnes, including refrigerated and tank-containers with non-hazardous loads. They have a loading length of 80 ft and loading capacity of 74·5 tonnes. UWC said the 25 tonne axleload was unique among long-wheelbase models.
Maintenance intervals of up to 1 million km or eight years are intended to minimise costs over a 32 year life.
'We are building a fleet consisting entirely of new railcars produced by advanced Russian manufacturers', said Deltatrans CEO Roman Volkov. 'Partnering with UWC has allowed us to replenish the company's fleet with innovative rolling stock, furnishing us with additional competitive advantages and heightening client interest.'