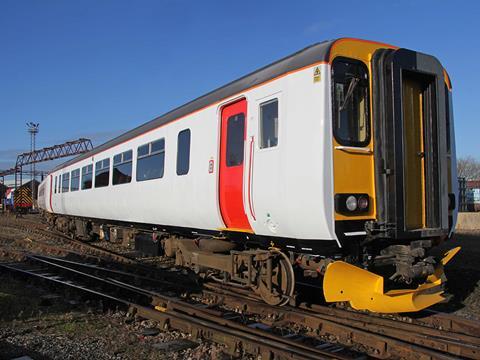 UK: Rolling stock leasing company Porterbook is planning to roll-out Knorr-Bremse's MGS3 wheel slide protection system across its fleet of multiple-units following a successful trial during the autumn leaf fall season.
Testing used a Class 156 diesel multiple-unit which was built in the 1980s when wheel slide protect was not installed as standard.
Porterbrook Leasing owns around 250 Class 15x vehicles, so was keen to find a solution to the problem of wheel damage during the leaf fall season. It acted as lead organisation for the trial, with Knorr-Bremse Rail Services supplying and adapting the equipment, SNC-Lavalin leading system integration and Loram carrying out the installation. East Anglia franchisee Abellio supported dynamic testing.
Porterbrook said the trial unit performed well, with the system activated multiple times when slippery tracks were encountered, automatically managing the traction and braking systems to prevent serious damage to the wheels.
'The wheel slide protection system installed on the Class 156 provided a critical capability during our most operationally vulnerable and challenging period', said Abellio East Anglia Engineering Director Colin Dobson. 'We were also able to gather invaluable comparative data to show how the system both added operational resilience and protected service levels.'