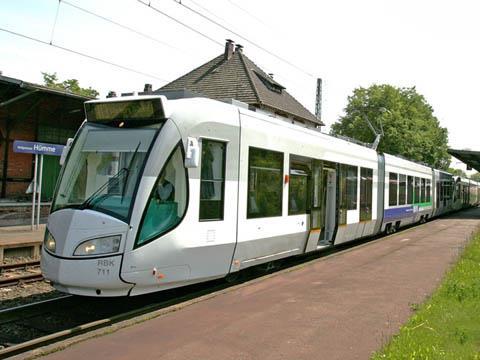 UK: Train operating company Northern Rail has issued an Invitation to Tender for the supply and maintenance of lightweight tram-train vehicles to operate on the Shefffied - Barnsley - Penistone - Huddersfield line during a two-year trial sponsored by the Department for Transport. Northern is looking to acquire a minimum of five vehicles to operate the 60 km route.
Due to start in late 2010, the trial is supposed to test the suitability of lightweight vehicles for operation on the UK rail network, including the potential to reduce the operating costs of secondary lines. The project is structured as a partnership between DfT, Northern and infrastructure manager Network Rail.
The UK government is providing £9m to support the first phase of the trials. Railways Minister Tom Harris said that tram-trains 'have real potential to deliver greener and faster journeys for passengers. It is encouraging to see that this ground-breaking project is making good progress.'
Network Rail is undertaking preparatory work on the route, including changes to the track and stations, as well as changes to the operating rules and legal requirements to permit the vehicles onto the network.
Whereas the first stage of the trial will restrict the lightweight vehicles to a non-electrified rural railway, the project includes an option for a second phase, which would look at genuine tram-train operation with through running onto the Sheffield Supertram network. This would see the vehicles running between Rotherham and Sheffield, to see assess the additional benefits of extending services into the city centre.
Northern Rail's Managing Director Heidi Mottram says 'this is an exciting trial, that has the potential to deliver higher quality journeys for customers on the Penistone line and the wider network. We look forward to receiving responses to the ITT.'