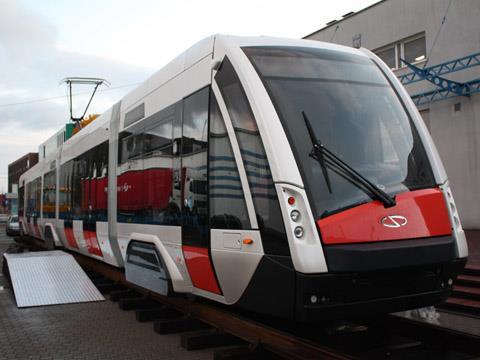 POLAND: Solaris Bus & Coach unveiled its prototype Tramino low-floor tram at the Trako fair in Gdansk on October 14, before the vehicle begins test running with MPK in Poznán.
The five-module unidirectional car is 31·9 m long and 2350 mm wide, with 61 seats and space for 116 standing passengers. Weighing 61 tonnes, the car has trucks derived from Bombardier's Cityrunner design. Electrical equipment from Medcom feeds the four VEM 105 kW motors, which drive the continuous axles through Voith gears. Two Maxwell supercapacitors rated at 0·3 kWh are mounted on the roof.
Solaris has been selected to supply 40 Traminos for Poznan, although the decision is subject to a legal challenge from Pesa, the current market leader in Poland with orders for 260 cars. Pesa has already overturned a planned contract for six Traminos in Szczecin, and both cities are expected to call a second round of tenders.