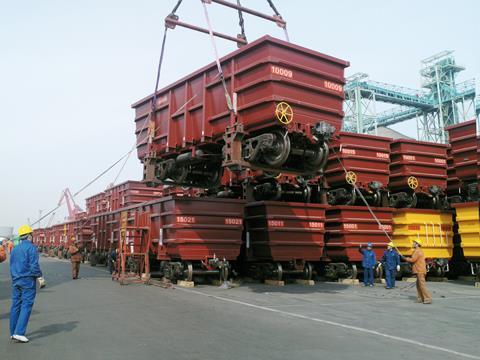 Argentina: The federal government has given its approval for 10 ex-RENFE Class 593 DMUs to be refurbished for use by TBA on the Mitre and Sarmiento commuter networks in Buenos Aires.
Australia: The Victoria state government has awarded Bombardier a €75m contract to supply a further 32 VLocity regional DMU cars. The 160 km/h units will be delivered in 2010-11 as a mix of two and three car sets, bringing the fleet to 134 cars.
On March 9 Bombardier and Downer EDI Rail announced a A$205m follow-on order from Queensland Rail for the supply of 20 additional three-car SMU260 EMUs between August 2010 and December 2011.
Austria: Graz – Köflacher Bahn placed a €50m order for 13 Stadler GTW 2/8 DMUs on February 20, for delivery by the end of 2011. The Land of Steiermark is meeting 25% of the cost.
Belgium: The first of 120 Class 18 electric locomotives being supplied by Siemens at a cost of €440m was officially handed over to SNCB on March 4, at a ceremony attended by Minister of Public Enterprises Steven Vanacker. Following commissioning tests, the Eurosprinter ES60U3 is expected to enter service in August.
Bosnia: Amsterdam operator GVB has donated 16 Type 9G and 10G trams to Sarajevo transport company GRAS. The first batch of eight was delivered in February, with the remainder following in March. The GRAS fleet suffered from war damage and inadequate maintenance in the 1990s. The company has previously bought second-hand trams from Wien.
China: CNR Changchun Railway Vehicles has selected Lloyds Register Rail to lead systems engineering work for the 10 eight-car EMUs which CRC is building for Hong Kong's MTR Corp.
CSR Zhuzhou Electric Loco Co has ordered axleboxes and drive bearings valued at €14m from SKF for use on 500 electric locomotives being supplied to Chinese Railways.
Greece: Interpipe has begun supplying OSE with 920 and 1 100 mm diameter wheels under a €7m contract.
India: The first nine-car stainless-steel bodied EMU to be built for IR by Titagarh Wagons Ltd was officially presented to Board Member, Electrical, Subkhir Singh at Howrah station in Kolkata last month. IR has ordered six sets from Titagarh and four from Jessop & Co, and Singh said tenders would shortly be called for a further 21 sets to be supplied by private-sector firms.
Bharat Heavy Electricals and Strukton Rolling Stock of Utrecht are to supply traction equipment for 115 electric locos of 6 000 hp being supplied to Indian Railways by Chitteranjan Loco­motive Works.
Ireland: Iarnród Éireann has ordered 51 DMU cars from Mitsui, Hyundai Rotem and Tokyu Car Corp for €140m. They will be delivered in 2011 for use on services from Dublin to Dundalk, Kildare and Longford, and on the reopened line to Navan.
Israel: The first 10-car push-pull trainset supplied by Siemens for Israel Railways' inter-city and regional services entered traffic on March 18. ISR General Manager Yitzhak Harel inspected the cab of the driving trailer of the first set before it entered service on the Nahariyya – Tel Aviv – Modi'in route. The €125m order for 87 cars was placed with Siemens in early 2006. ISR has options worth €900m for up to 585 additional vehicles.
Italy: Trenitalia has awarded a €47m contract to GE Transportation Global Signaling to supply and install on-board equipment for the SSC train protection system to be fitted to 400 diesel locomotives.
Trenitalia has awarded a five-year contract to Alstom for maintenance of its 250 km/h ETR600 Pendolino trainsets. Since December, six of the 12 sets ordered in 2004 have been put into revenue service on routes in the south of the country.
Faiveley has won a €2m contract to supply CX piloted 25 kV AC/3 kV DC pantographs for the 25 AGV high speed trains which Alstom is building for open access operator NTV.
Kazakhstan: KTZ President Askar Mamin signed a contract with Siemens last month covering the supply of AC traction equipment for 22 Class KZ4A electric locomotives which were ordered from CSR Zhuzhou Electric Loco Works for US$100m last year (RG 12.08 p935).
Poland: The voivodship of Warmiesko-Mazurskie has called tenders for supply of three two-car DMUs by June 30 2010. Silesia is seeking eight articulated EMUs with wide gangways to work regional services, for delivery within 26 months.
Szczecin Tramways has ordered six 100% low-floor 32 m five-section trams from Poznan-based bus builder Solaris at a cost of 45m zloty, for delivery in the second half of 2010.
Russia: Novoaltaisk-based wagon builder Altaivagon has reported contracts with a variety of shippers and leasing companies to supply 11 000 wagons during 2009 with a total value of 17bn roubles.
Spain: Open access freight operator Continental Rail has received the second of four diesel locomotives ordered from Vossloh for €12m.
Sweden: EuroMaint Rail has been awarded a three-year contract for heavy maintenance of 16 locomotives and 85 coaches for SJ. The company will also maintain DMUs of Classes Y31, Y32 and Y1 for Arriva's Kinne-kulletåget services between Göteborg and Örebro under a seven-year contract starting in June.
Switzerland: On March 10 BLS announced the start of a SFr50m programme to modernise its fleet over the next three years. Workshops at Bönigen, Spiez and Oberburg will refurbish 86 out of 125 trainsets, including the installation of air-conditioning. Tenders will also be called for the supply of 28 double-deck trainsets for Bern S-Bahn services, for delivery in 2014.
SBB and ZVV have agreed a SFr40m programme to fit CCTV security monitoring and enhanced passenger information systems on 113 original double-deck trainsets for the Zürich S-Bahn by the beginning of 2011.
UK: The Hitachi-led Agility Trains consortium selected to supply up to 140 Super Express Train inter-city trainsets from 2013 launched a consultation process on March 11 to select European partners and component sub-suppliers.