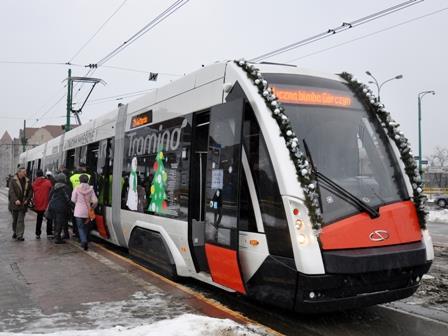 POLAND: A Solaris Tramino low-floor tram decked in festive Christmas designs has been running in Poznań to raise money for children suffering from Ehlers-Danlos syndrome, an incurable hereditary condition.

The 32 m long five-module articulated prototype vehicle currently in passenger service is 2 350 mm wide and has a narrow lower body profile. However, the 40 unidirectional units for MPK Poznań, which will start to arrive in spring 2011, will be slightly wider at 2 400 mm and will have straight–sided skirts and a 750 mm-wide aisle (RG 11.10 p71).

Unladen weight on the series vehicles will be reduced from 41·8 tonnes to 39·5 tonnes, allowing capacity to be increased from 199 to 229 passengers. Double door width will be 1 500 mm rather than 1 300 mm.

The welded steel bodyshells will be fabricated at a new facility in Środa Wielkpolska, with final assembly to be undertaken in Poznań. Production began on September 7 and the first unit should be ready for testing in April 2011. Deliveries are due to be completed by March 2012.