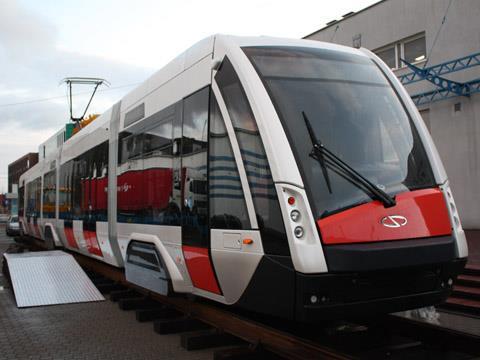 POLAND: Solaris has signed a 342m zloty contract to supply 40 low-floor trams to Poznan municipal transport operator MPK. They are to be delivered between June 2011 and March 2012, in time for the city hosting the 2012 UEFA European Championship.
The 40 unidirectional Solaris Tramino LF 32 trams will be five-module vehicles 31·9 m long and 2 400 mm wide, with air-conditioning and space for 229 passengers. The entrance height will be 350 mm above top of rail with access via four double doors and two single doors. Each vehicle will have two powered and one non-powered bogie, with four 105 kW motors each with a static inverter.
The order includes depot equipment and service contracts. Solaris will provide a five-year warranty on all components and a 14-year warranty on body durability.
The contract was signed in the pre-production Tramino, which has been sent to Poznan for testing after being unveiled at the Trako fair in Gdansk during October. 'Over the coming months, we will put this first Tramino through its paces so that no teething troubles should remain by the time we start serial production", said Solaris founder Krzysztof Olszewski.
Solaris is looking for local partners to support production of the Tramino. According to the manufacturer, talks with Modertrans Poznan are well advanced.