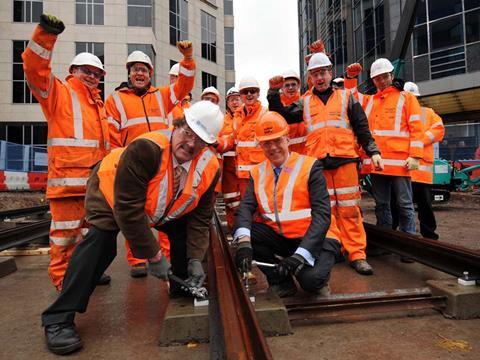 UK: A ceremony was held on November 5 to mark the start of tracklaying on the 1⋅4 km extension of the Midland Metro light rail system through the centre of Birmingham, running from Snow Hill to New Street.
'This is a significant and symbolic moment for the Metro extension', said Councillor Roger Horton, Lead Member for Rail at West Midlands local transport authority Centro. 'In the year that sees the 60th anniversary of the last tram running in Birmingham, we are seeing the first tracks go in for a new 21st century system'.
'Despite the complexity of the construction works and the highly confined space we have to operate in, the works are progressing at an excellent pace', said John Daft, Project Director at construction contractor Balfour Beatty. The extension is due open in 2015.
Total cost of the project is £127m. This includes £40m for 20 Urbos 3 trams now being delivered by CAF which are due to enter service on the existing Midland Metro route between Birmingham and Wolverhampton in 2014.
Centro reports that proposals for a further extension from New Street to Centenary Square were approved by over 90% of respondents during initial consultation.
• Midland Metro's development plans are described in more detail in the September 2013 issue of Metro Report International.