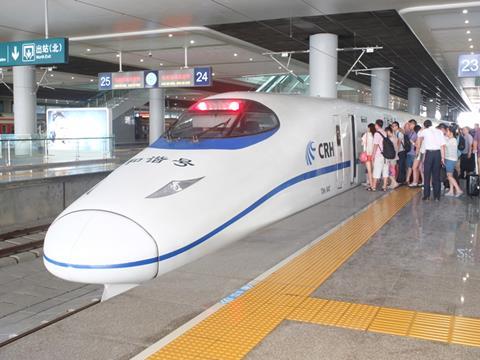 CHINA: The fastest Nanjing - Hangzhou journey times were almost halved with the opening of the Passenger-Dedicated Line between the cities on July 1, the same day as the opening of the Hangzhou - Ningbo PDL.
Construction of the 249 km Nanjing - Hangzhou high speed line began in December 2008, with the 24 bn yuan cost jointly funded by the former Ministry of Railways and the provinces of Jiangsu and Zhejiang, of which the two termini are the capital cities.
The line is designed for 350 km/h running. Its completion avoids the need to travel via Shanghai, and thus reduces the fastest journey times from 4 h 22 min by conventional train or 2 h 05 min by PDL to 1 h 10 min on the new route. Because fares are set by distance, the opening also reduces prices by approximately 40%.
The route starts at Nanjing South station, which opened in 2011 with the Beijing - Shanghai PDL, and serves new stations at Jiangning, Jurong West, Lishui, Wawushan, Liyang, Yixing, Changxing, Huzhou, Deqing and Hangzhou East, a strikingly-designed major station with 28 platforms.
The 150 km Hangzhou - Ningbo PDL built a cost of 21bn yuan reduces the fastest journey times between Zhejiang province's main cities from 1 h 30 min to 59 min. There are stations at Hangzhou East, Shaoxing North, Shangyu North, Yuyao North, Zhuangqiao and Ningbo; trains are currently using Ningbo East while Ningbo station is upgraded.