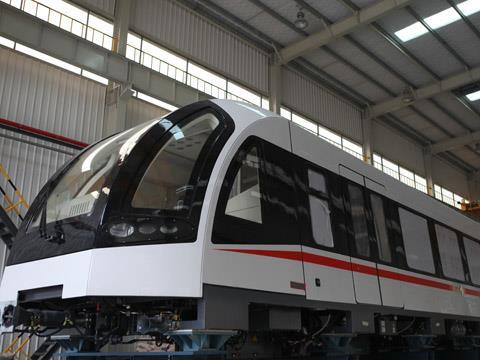 CSR Zhuzhou's Wind Chaser urban maglev technology has been selected for a planned 24 km line from Zhangjiajie West to Wulingyuan. The 10 km Phase 1 from Wujiayu to Chaqiyu is estimated to cost 2bn yuan.
A southern extension of St Petersburg metro Line 5 from Volkovskaya to Bukharestskaya and Mezhdunarodnaya opened on December 28. Line 5 will eventually extend to Shushary.
The Genova metro was extended 1·6 km eastwards from De Ferrari to Brignole station on December 22, taking the line to 6·5 km.
On December 17 the first test tram ran on a 450 m extension of Nice Line 1 from Pont-Michel to Hôpital Pasteur. Opening is planned for later this year.
Peruvian state investment agency ProInversión has called tenders for Lima metro Line 2 (RG 1.13 p15). It expects to award the concession in July.
Manchester Metrolink ran services to Shaw & Crompton for the first time on December 16. The extension from Oldham Mumps has an intermediate stop at Derker and will be extended to Rochdale in 2014.
The C$1·4bn West LRT 8·2 km extension of Calgary's CTrain light rail Blue Line opened to the public on December 10. Fast journey times are expected to increase ridership to 40000 passengers/day over the next few years.
Transport for London has extended Serco Docklands' contract to operate the Docklands Light Railway by 18 months. The deal is worth £100m and runs from April 2013 to September 2014.