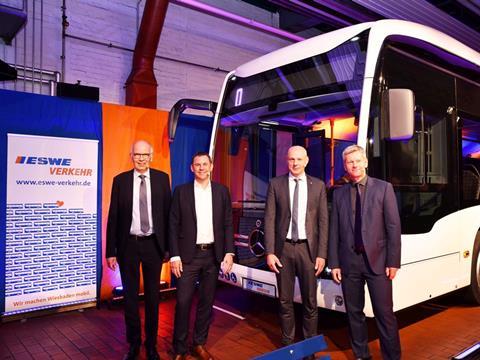 GERMANY: Wiesbaden transport operator ESWE Verkehrsgesellschaft has ordered 56 Mercedes‑Benz eCitaro battery electric buses. The contract announced on April 10 includes the supply of chargers and other depot infrastructure.
The first 10 buses are due to arrive this year, with the remainder following in 2020. The first 15 will be equipped with lithium-nickel-manganese-cobalt-oxide batteries. Each bus will have 12 battery packs, giving a total capacity of 292 kWh. The remaining 41 will be equipped with solid-state batteries, with seven battery packs offering 441 kWh.
The batteries will be charged using plug-in charging at the depot. IVU Traffic Technologies will work with Mercedes-Benz to supply charging management. Each bus will be assigned a defined charging point upon arrival at the depot, and the smart charging software will optimise the amount of charging needed. Charging management will also preconditioning the temperature of the passenger compartment and batteries.
According to the manufacturer, the buses will have a range of up to 200 km between charges. Vehicle maintenance will be carried out in co-operation with Taunus Auto Verkauf.