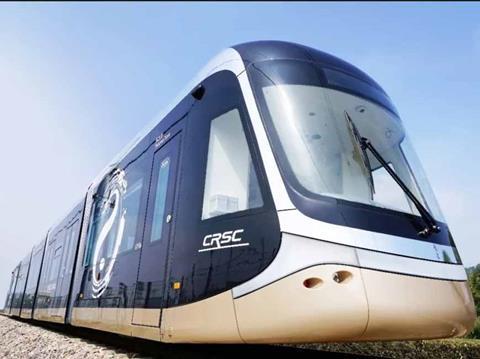 CHINA: China Railway Signal & Communications Group has rolled out at its Changsha factory the first of 17 trams that it is supplying to operate the initial tram route being developed in Tianshui.
The five-section Pioneer tram has a capacity of 370 passengers including 58 seated. The 100% low-floor vehicle has an operational maximum speed of 70 km/h and uses onboard energy storage to run without overhead wires, charging through a pantograph at stops.
Line 1 is being developed as a PPP between the city and CRSC at a cost of around 2·5bn yuan. The 20·2 km route will connect Tianshui railway station in the east and Jihe Beilu in the west, serving 17 stops, including four that will be interchanges with future routes. The initial 13 km western section with 12 stops is due to open next year.
Two more east-west tram routes are planned. Line 2 would serve 17 stops on a 16·1 km alignment in the southeast of the city, and Line 3 would run for 7·2 km, serving 10 stations in the southwest. Two more lines would be added in the longer term.