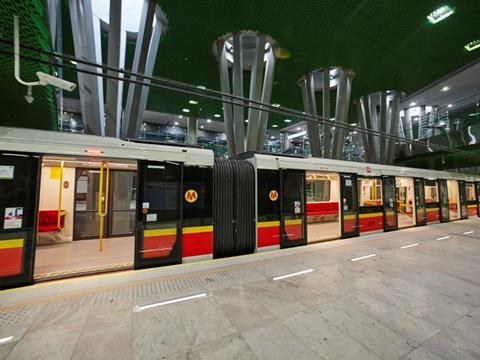 POLAND: Metro Warszawskie has selected contractors to build two extensions of metro Line 2 in the capital.
Gülermak is to undertake work on a 3·5 km western extension with three stations for 1·15bn złoty. A 3·1 km eastern extension, also with three stations, is to be built by Astaldi for 1·07bn złoty.
All stations would be built using the cut-and-cover method, with running tunnels bored using tunnel boring machines. The project is 85% EU co-financed and both extensions should be completed in 2019.
A consortium that included the two companies built the first phase of Line 2, which runs for 6·5 km between Rondo Daszyńskiego in the west and Warszawa Wileńska in the east.
Future plans envisage further extensions at either end of the line with a combined length of 5·6 km; these would add three more stations at the eastern end and two more in the west. If the second phase of the extensions is realised, additional rolling stock will be required, and with it a new stabling facility. The purchase of 30 to 35 trainsets is envisaged, in addition to a second depot at the western end of the line.