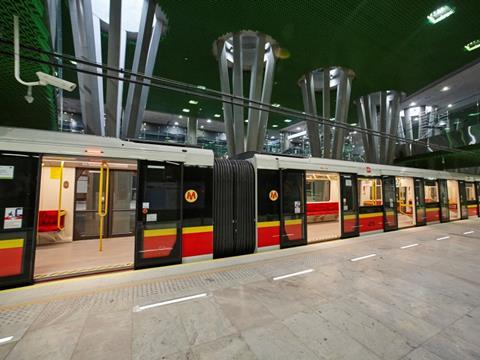 POLAND: Deputy Prime Minister Mateusz Morawiecki attended the signing ceremony on September 23 for a 1·83bn złoty tranche of funding from the EU's Infrastructure & Environment programme towards the extension of Warszawa metro Line 2. The EU is to provide around 60% of the funding for the 3·16bn złoty project.
The east-west line is to be extended at both ends. A 3·5 km western extension would have stations at Księcia Janusza, Młynów and Płocka in the Wola district. A 3·1 km eastern extension would go into the Praga district would have stations at Szwedzka, Targówek and Trocka. Last year Gülermak and Astaldi were selected as contractors for the western and eastern extensions, respectively.
Both extensions are due to open in 2019. Tenders for a contract to supply 13 trainsets are to be called shortly.