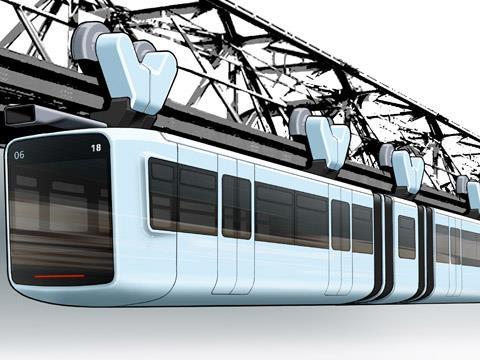 GERMANY: Swiss-based engineering group Prose is taking responsibility for all the mechanical aspects of a rolling stock project for the first time, in its role as Vossloh Kiepe's mechanical engineering partner for the development of a new fleet of cars for the schwebebahn suspension monorail in Wuppertal.
Wuppertaler Stadtwerke awarded Vossloh Kiepe a €122m contract for 31 articulated cars in November 2011. Vossloh Kiepe will supply the electrical systems for the trains, which are to be assembled at the Vossloh Rail Vehicles plant at Valencia in Spain.
Vossloh Kiepe has appointed Prose to provide vehicle development and manufacturing support services for the mechanical elements including the welded aluminium body, interiors and running gear. Prose said Vossloh Kiepe wanted a single engineering partner to minimise the number of interfaces and simplify project management.
According to Prose, a particular challenge comes from the requirement for the new stock to incorporate passenger information and ventilation systems, while being no heavier than the existing lightweight cars dating from the 1970s.