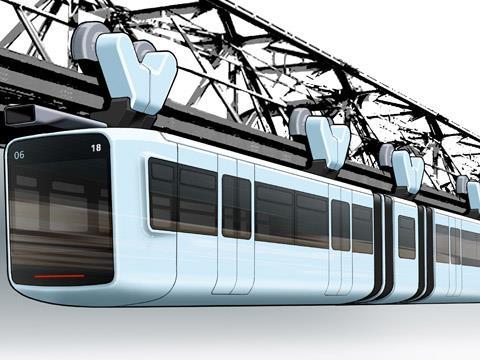 GERMANY: Wuppertaler Stadtwerke signed a €122m contract for Vossloh Kiepe to supply 31 articulated cars for Wuppertal's 13·3 km schwebebahn suspension monorail on November 10.
The cars will replace the 1970s vehicles currently in service. They will be built by Vossloh Rail Vehicles in Valencia, with traction equipment from Vossloh Kiepe. Two will be delivered for testing in mid-2014, with the rest arriving at a rate of two or three a month from the end of 2014 to December 2015.
The welded aluminium trains are being styled by büro+staubach They will feature large windows to enable tourists to view the engineering details of the monorail, which dates from 1901, as well as the River Wupper which the line straddles. The units will have partial air-conditioning to prevent condensation on the windows. The interiors will have LED lighting and 46 padded wooden seats instead of the current plastic shells.
The trains are being designed for quieter running with faster acceleration, and will feature three-phase motors to reduce maintenance costs, along with regenerative braking. To enable peak headways to be reduced to 2 min the power supply will be uprated and increased from 600 to 750 V.