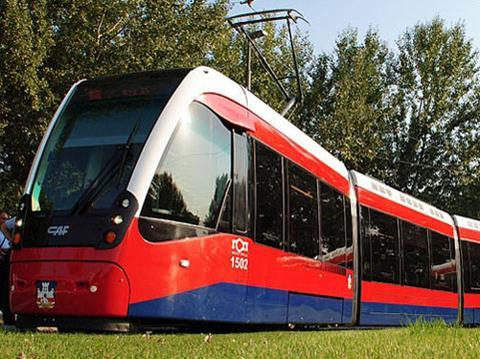 UK: Work has now begun on a £128m project to increase capacity on the Midland Metro light rail line and extend the route 1·3 km through central Birmingham, following the signing of contracts for a new tram fleet and related depot enhancement works.
Transport Minister Norman Baker announced the final go-ahead for the government's £75?4m contribution to the project on February 16, enabling contracts to be signed by West Midlands transport authority Centro.
The depot at Wednesbury is now being expanded by Morgan Sindall under a £13·8m contract. This includes a 42 m extension to the main building, additional maintenance berths, four more stabling sidings and a separate testing and commissioning building. There will also be upgrades to the overhead electrification and telecoms, and a new substation at Colliery Road.
'This is our first project for Centro', said Jag Paddam, Managing Director of Infrastructure at Morgan Sindall. 'We offered a range of value engineering approaches which were enthusiastically received by the customer and which will help to ensure both expectations and budgets are met.' Completion is planned for mid-2013.
The depot extension is needed to accommodate the Urbos 3 trams which will be supplied by CAF to replace the current fleet of 16 Ansaldo cars. A firm order for 20 trams worth around £40m has now been signed, and there are options for up to five more.
The CAF trams are scheduled to enter service from February 2014, with the extension from Snow Hill to Birmingham New Street station opening in March 2015.