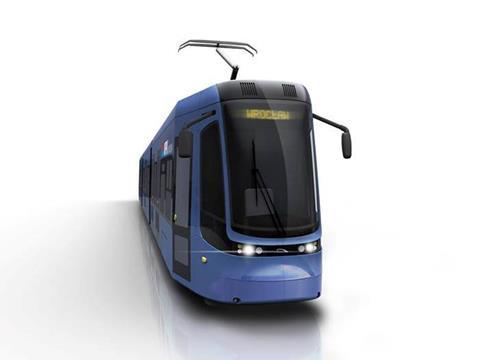 POLAND: MPK Wrocław signed a contract with sole bidder Pesa on December 15 for the supply of six Twist trams with an option for 19 more.
The order is part of the Integrated Rail Transport System in Greater Wroclaw Stage II programme. The city transport authority hopes that part of the 50m złoty cost will be covered from EU funds, although this has not yet been confirmed. This would also be a factor in deciding whether to draw down on the option.
The three-section trams would be the first 100% low-floor trams in Wrocław. They would be 32 m long and 2 400 mm wide with capacity for 222 passengers at 5/m², including 58 seated. Maximum speed would be 70 km/h and the trams would include regenerative braking, supercapacitor energy storage and air-conditioning. Deliveries are due to begin next year.