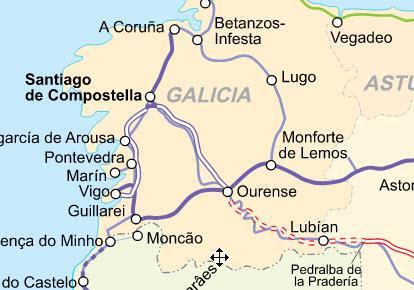 SPAIN: In mid-January ADIF invited tenders for the electrification of the 73 km between Monforte de Lemos and Lugo as the infrastructure manager continues its gradual modernisation of the single track railway running north-south between Monforte and A Coruña.
The budget for the electrification work is €21∙2m, with ADIF expecting completion within 18 months. The route will be energised at 25 kV 50 Hz, which aligns with the power supply on the high speed network.
Monforte is an important junction with the east-west main line between León and Ourense. At present, this route is energised at Spain's legacy 3 kV DC, but conversion to 25 kV is envisaged to integrate it with the A Coruña – Ourense – Olmedo high speed line.
ADIF has started to specify AC electrification for a number of upcoming projects on conventional lines, partly to ensure integration with the high speed network but also to facilitate potential through running into Portugal, where 25 kV 50 Hz is the national standard. It now seems unlikely that ADIF will undertake much more wiring at 3 kV DC.
The initial section of catenary from the dry port at Monforte to Lugo Mercancías will be designed for operation at up to 200 km/h. In addition to the electrification, various cut-offs and realignments are planned between Monforte and A Coruña to enable journey times to the northwestern city to be further reduced.
In late January, the transport ministry called tenders for a feasibility study for electrification of the 74 km between Bobadilla and Ronda, which would cover approximately half of the single-track route from Bobadilla to the southern port of Algeciras. The route would be electrified at 25 kV 50 Hz. The existing broad gauge line is currently being converted to dual gauge for completion by the end of 2022.