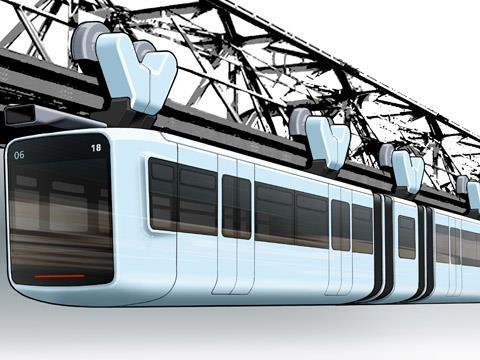 GERMANY: Wuppertal transport agency WSW Mobil has awarded Alstom a €17m contract to provide Atlas 400 ETCS Level 2+ signalling for the modernisation of the Schwebebahn suspension monorail.
Alstom will supply trackside and onboard equipment for the 13·3 km line, 20 stations, two depots, 31 new articulated trains being supplied by Vossloh Kiepe and the historic Kaiserwagen vehicle which dates from 1900. Completion is scheduled for 2015.
Announcing the contract on June 7, Alstom said this is its first German order to cover all aspects of signalling from route setting and interlocking to train protection and control.
According to the Alstom the ETCS Level 2+ will be similar to Level 3, with the train reporting back its location rather than using track circuits or axle counters detectors. However, fixed block sections will be retained. The Wuppertal implementation will also use Tetra radio rather than GSM-R communications.
'This project allows us to make a big step towards the introduction of ETCS technology in Germany', said Dr Martin Lange, Managing Director of Alstom Deutschland.