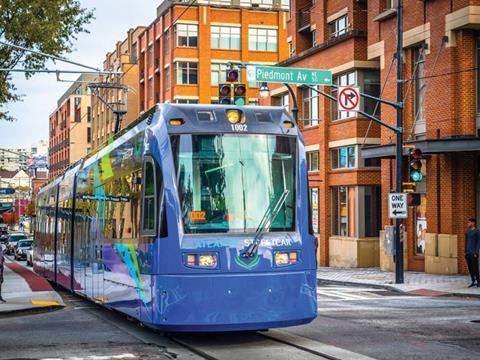 USA: Tram services in Atlanta started on December 30 following an opening ceremony for the Downtown Loop circulator at 11:00. Travel will be free for the first three months of service.
The 4·2 km standard gauge street running line with 12 stops links the Martin Luther King Jr National Historic Site with Centennial Olympic Park. Interchange is provided with MARTA rail services at Peachtree Center. The depot is on the eastern section of the route, under the I-75/I-85 highway.
Services run at 10 to 15 min frequencies between 06.00 and 23.00 (01.00 on weekends). Breeze smartcard ticketing is available, in common with MARTA bus and rail services, and children under 10 will be able to ride for free. Ridership is forecast at 2 600 passengers/day.
Siemens has supplied four 70% low-floor cars from its S70 Avanto LRV family under a $17·2m contract awarded in 2011. These are powered from overhead wires at 750 V DC.
Construction began in February 2012. The project was developed jointly by City of Atlanta, Atlanta Downtown Improvement District and MARTA.