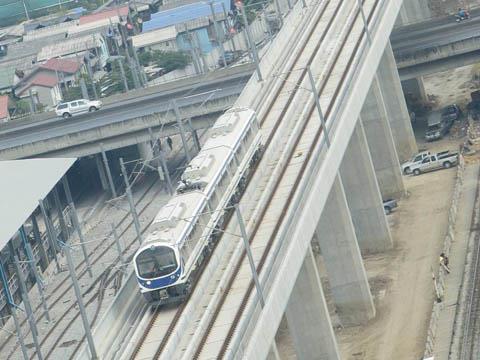 THAILAND: Test running began on Bangkok's Suvarnabhumi airport rail link on January 18. Siemens has supplied four Siemens Desiro EMUs for the non-stop Airport Express services on the 28 km standard gauge line, and five three-car units which will operate a commuter service calling at eight intermediate stations.
Meanwhile, the first contract for civil engineering work on the Purple Line metro is expected to be signed in March, following the opening of financial bids for Phase 1 by the Mass Rapid Transit Authority.
The lowest bid for the 12 km section between Taopoon and Rama III Bridge was submitted by the CKTC joint venture of Ch Karnchang and Tokyo Construction. CKTC's bid of 16·7bn baht beat rival bids from Italian-Thai Development (17·9bn baht) and Sino-Thai Engineering & Construction (17·1bn baht). The preferred bidder must be approved by Japan Bank for International Co-operation, which is financing the civil works.
As winner of first phase contract, CKTC is excluded from Phase 2 which encompasses the 11 km section from Rama III Bridge to Klong Bang Phai. Financial bids submitted by the other two consortia are due to be opened in February, with a contract expected to be signed in May.
Bids for a third contract covering the depot at Bang Yai and four park-and-ride facilities have been received from Italian-Thai, Sino-Thai, Takenaka-Ritta JV and PAR JV.
Work is progressing on the suburban Red Line following the signing of the Phase 1 contract on December 12. JBIC has agreed a loan of 89·7bn baht for Phase 2 from Bang Sue to Rangsit, and State Railway of Thailand is seeking cabinet approval of the budgets for the signalling and rolling stock; tenders are expected to be called shortly, with the total value put at 6·15bn baht.