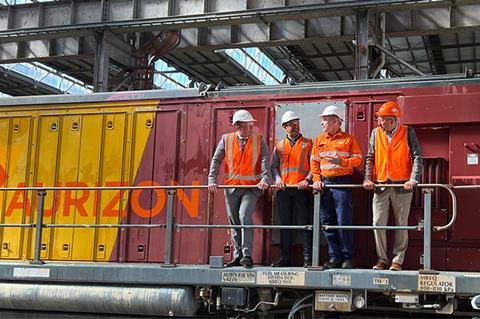 AUSTRALIA: One of Aurizon's Class 4000 diesel locomotives is being converted to a prototype EMD Joule battery powered heavy-haul freight loco which can be charged using renewable electricity and capture regenerated energy when braking or travelling downhill.
The operator said the prototype will be 'a measured step forward to introduce the new technology to our operations and customers while demonstrating a tangible transition pathway for a large portion of our fleet'.
Aurizon said it has more than 120 similar locos, with an expected a life of 20-30 years, and if the prototype is successful then conversion to battery power could provide a cheaper route to decarbonising main line rail haulage than other options.
Locomotive rebuild

The rebuilding of the locomotive is being undertaken at Progress Rail's Redbank site in Queensland, where the manufacturer has recently secured a lease extension to 2034.
The cab, frames, bogies and traction motors will be reused, with the diesel engine and fuel tank replaced by a 4·5 MWh lithium-ion battery pack. A new control system will be installed, along with inverters for each axle and an air compressor.
The project is drawing on Progress Rail's experience with its EMD Joule concept in Brazil and the USA. This 'leverages our worldwide capabilities, while heavily relying on our expert workforce in Australia', said Progress Rail Senior Vice-President Colin Kerelchuk.
Design work is underway and preliminary activities for the retrofit have commenced. The prototype is expected to be completed by early 2025, with trials commencing in the first half of that year.
Performance
The aim is to produce a locomotive with equal or better power and performance than the current fleet. Aurizon has commissioned the University of Queensland and Central Queensland University to undertake research into emerging battery technology and the charging facilities and infrastructure which will be required.
Aurizon expects a battery loco to be suitable for its hauls of up to 400 km, with the addition of a separate battery wagon extending operation to 850 km and a hydrogen fuel cell wagon enabling use on routes of more than 850 km.
'Modern freight locomotives using renewable energy sources have the potential to transform the nation's freight supply chains', said Managing Director & CEO Andrew Harding on May 31. 'Not only will this dramatically reduce the carbon footprint for our freight transport needs and the community in general, but it will also provide a significant competitive advantage for Australian industries and exporters in global markets.'