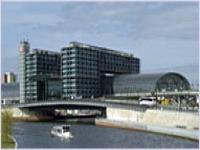 GERMANY: Two contracts totalling €230m have been awarded to civil engineering group Bilfinger Berger for construction of new urban rail links to serve Berlin Hauptbahnhof, the company announced on February 10.
The bigger contract awarded by the local transport authority covers the missing section of U-Bahn line U5 between Alexanderplatz and Brandenburger Tor, where it will connect with the isolated route to the main station where BVG has operated a shuttle service as Line U55 since completion in 2009. As well as boring the 1·6 km running tunnels using a TBM and shield excavation, Bilfinger Berger will excavate the underground station at Museuminsel and build a cut-and-cover station at Unter den Linden.
The second contract awarded by DB to a joint venture including Bilfinger Berger covers the construction of tunnels for Line S21 between the Hauptbahnhof and a triangular junction with the northern side of the city's S-Bahn ring. Including a mix of open cut and tunnelling, this will require pressurised excavation of the section below the main station.