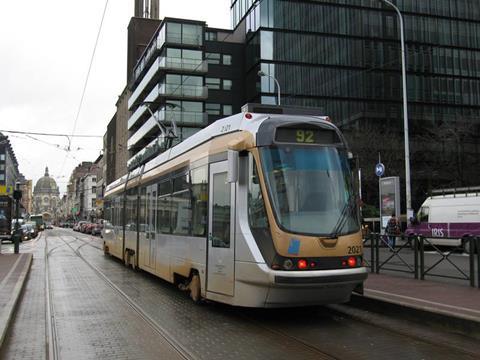 BELGIUM: Brussels city transport operator STIB and Bombardier Transportation signed a €480m framework contract for the supply of up to 175 Flexity trams on April 24.
STIB had selected Bombardier as preferred bidder on February 5. The base order is for 49 five-section trams 32 m long and 11 seven-section, 43 m long vehicles. This is worth €169m excluding VAT, and includes spare parts and a driver training simulator. Bombardier will also be responsible for the vehicles' maintenance.
The 100% low-floor trams will be equipped with Flexx Urban 3000 bogies and LED lighting. A driver assistance system will be installed, with cameras and sensors to detect pedestrians and other vehicles near the tram. The air-conditioning will be adjusted using data supplied by sensors.
'Our goal is to meet passenger expectations and persuade the people of Brussels to leave their cars behind and choose more efficient and eco-friendly mobility options', said Bombardier Transportation Sales Director Benelux Sébastien Ridremont.
Deliveries are due to begin in early 2020. The trams would replace some of STIB's oldest high-floor trams, as well as enlarging the fleet.