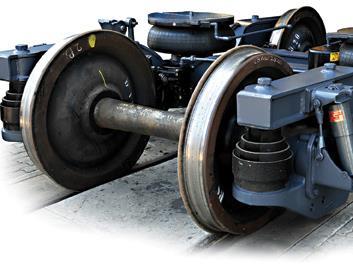 SOUTH AFRICA: DCD Rolling Stock has developed a bolsterless passenger coach bogie designed for 20 tonne axleloads and operating speeds up to 160 km/h under South African conditions.
The company says the 1067 mm gauge design developed over four years at a cost of R7m means it is well placed to participate in Passenger Rail Agency of South Africa's plans to procure more than 7000 electric multiple-unit cars.
DCD worked with Prasa to understand the in-service performance of the bogies used on its 8M stock dating from the 1980s and determine areas for possible improvement.
The new design has 80% local content, and complies with UIC 518 and Transnet's RSE/TE/SPC/0076 specifications. Transnet Freight Rail undertook independent testing of two prototypes, which according to DCD showed that the design offers better ride quality than the current Commonwealth bogie design.
'The significant time, manpower and capital invested into the development of this new unit now make it possible for us to offer OEMs and coach body manufacturers a proven bogie that has passed all the required initial tests', said Carl Rehder, Executive Director of DCD Group.