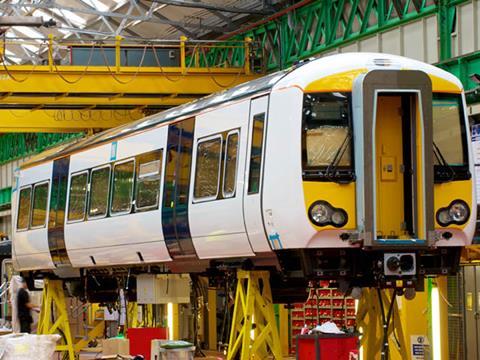 UK: Bombardier Transportation announced on July 5 that it was initiating a 90-day statutory consultation process with a view to downsizing capacity at its train manufacturing plant in Derby. Citing declining workloads, the company is expecting to release 446 permanent and 983 temporary staff over the next few months.
At present the plant has five assembly lines in operation, having recently completed EMU builds for National Express East Anglia and London Overground, as well as metro trains for London Underground's Victoria Line. It is now delivering Class 172 Turbostar DMUs for London Midland, but this contract is expected to be completed by the end of September. A contract to supply almost 1 400 S Stock cars for London Underground's Sub-Surface Lines will keep one or two production lines running until 2014-15.
However, last month the company lost out to Siemens for the contract to finance, supply and maintain up to 1 200 vehicles for the Thameslink Programme in London, and announced that it would be carrying out 'a full review' into the future of its Derby factory. Francis Paonessa, President of the Passengers Division in the UK said 'the loss of the Thameslink contract, which would have secured workload at this site, means that it is inevitable that we must adjust capacity in line with economic reality'. The company currently employs around 3 000 people in Derby, plus an estimated 12 000 in its supply chain.
With Hitachi selected to assemble the next generation of long-distance trains under the Intercity Express Programme, Bombardier is keen to win the contract to supply around 600 EMU vehicles for Crossrail, where it has prequalified along with four competitors. This contract is now expected to be awarded in 'late 2013', with the first units starting test running towards the end of 2016. Even if Bombardier were to win the order, assembly of the first cars would not begin until 2015, leaving a gap in production after completion of the S Stock.