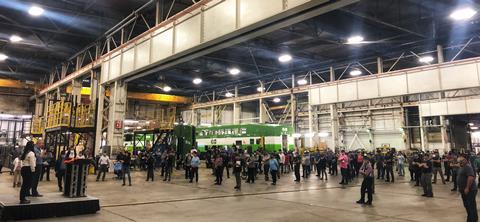 CANADA: Bombardier Transportation has announced plans to reduce the workforce at its Thunder Bay plant in Ontario by 125 people by mid-October, and potentially by 75 more next March. 'Unfortunately, we find ourselves unable to sustain current workforce levels', the company said.
'During the last 19 months, we have been able to find short term bridges to keep us moving forward, including bringing work here from other BT sites', said Site General Manager Lindsay Fenton on August 26. 'In addition, our customer, Metrolinx, ordered 36 additional BiLevel cars last summer. And with the onset of the global pandemic, we have had the opportunity to be a submanufacturer of ventilators destined for the province of Ontario. While it is a temporary project, it allowed us to call back roughly 50 employees. We are now working very hard to secure that next bridge to longer term viability.'
David Van Der Wee, Chief Operating Officer at Bombardier Transportation Americas, said 'we have a great team at our Thunder Bay plant — the skill, the quality of the work, and their heart in approaching this work is second to none', and the company was 'doing everything possible to bring in more work'.
'We continue to have discussions with all levels of government, as well as our customers, about the situation at the plant and what is needed to keep it commercially viable', he said. 'This is a tough day for those impacted, for their families, and for the community.'
Bombardier Transportation worked with O-Two Medical Technologies on the ventilator project, setting up a clean room at the Thunder Bay plant with an eight-station production line for finishing and assembling components for ventilators ordered by the government of Ontario. 'Throughout the years of plant manufacturing, we've built buses, we've built planes, we've built minesweepers', said Dominic Pasqualino, President of the Unifor trade union's Local 1075. 'This is the smallest item we've ever made. I think it is the most important thing.'