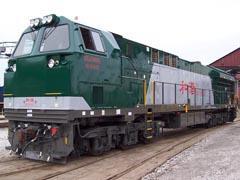 CHINA: The Changzhou CSR GE Diesel Engine Co Ltd joint venture of CSR Qishuyan and GE China was formally established on September 9.
Based at the Rail Transit Industrial Park in the Changzhou Qishuyan Economic Development Zone, its main business will be the production, sales and technical support of locomotive engines and components.
Around 650m yuan is being invested in the equally-owned joint venture, which was announced by GE Transportation in November 2009.
It will initially assemble and overhaul EVO16 diesel engines, with capacity of 250 engines a year from March 2011. A second phase will see it manufacture complete engines, with annual revenue expected to reach 1·5bn yuan when production reaches full capacity.