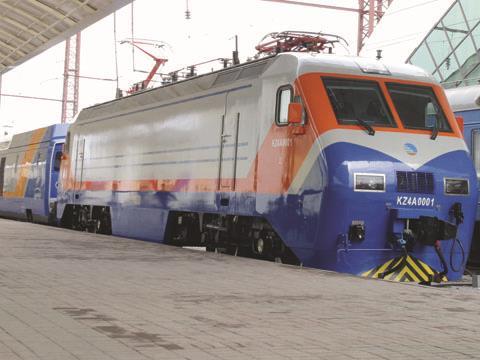 KAZAKHSTAN: National railway KTZ and Spanish rolling stock manufacturer Patentes Talgo have opened their joint production facility in Astana. On December 8 the plant was visited by President Nursultan Nazarbayev, who inspected the first completed cars for KTZ.
Talgo and KTZ agreed in 2010 to set up the Tulpar Talgo joint venture to build and maintain passenger rolling stock. Talgo has a €300m contract to supply 420 coaches under the joint venture, with options for up to 3000.
'The start of our own production of passenger cars is an important milestone in the industrial history of the country', Nazarbayev said. According to KTZ, the factory 'was designed and constructed in accordance with international standards of quality, cost-effectiveness and efficiency of the production process and is unparalleled in the CIS region.'
Located on the Industrial Park of Astana, the site covers 21 ha, and includes 31000 m2 of production halls and 4·3 km of internal track. It will primarily supply passenger cars for inter-city and regional trains at speeds of up to 200 km/h.
The joint venture says that the latest suspension and bodyshell designs, and heating and air-conditioning equipment designed for the rigours of the local climate, will deliver a greater level of passenger comfort and safety than KTZ's existing rolling stock. The plant is expected to complete 150 vehicles per year.
Once the plant is operating to full capacity, Tulpar Talgo expects to employ 366 staff, with local production content reaching 56%; senior managers have already visited Talgo factories in Spain for training on quality assurance and vehicle testing.