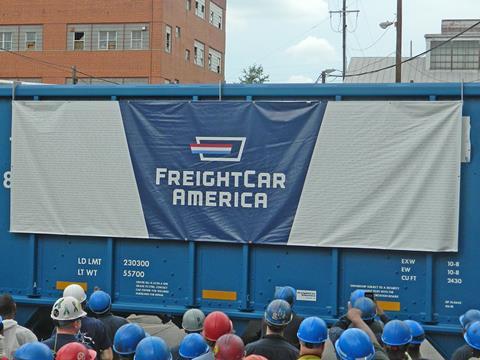 USA: Wagon manufacturer FreightCar America is to permanently close its factory at Roanoke, Virginia, by mid-November. The company has leased the site from Norfolk Southern since 2005.
'The closure of our Roanoke facility is another next step in our "Back to Basics" strategy as we continue to streamline our manufacturing footprint and match it to our future product offering', said President & CEO Jim Meyer when the decision was announced on July 22. 'Reducing our fixed costs and achieving world-class output from our much larger Shoals facility have always been core pillars of our turnaround strategy.'
Meyer said 'we have spent the last two years building our talent, processes and overall capabilities at Shoals and the plant is now in a position to accept the Roanoke models and volume. This action, when complete in the first half of 2020, is expected to save approximately $5m per year.'
Meyer said 'our people at Roanoke have consistently performed above all expectations'. While most jobs would be lost, the company would offer 'select employees' the opportunity to relocate to other parts of the business.
Headquartered in Chicago, FreightCar America has facilities at Cherokee in the Shoals region of Alabama, Grand Island in Nebraska, Johnstown in Pennsylvania, Roanoke in Virginia and Shanghai in China.