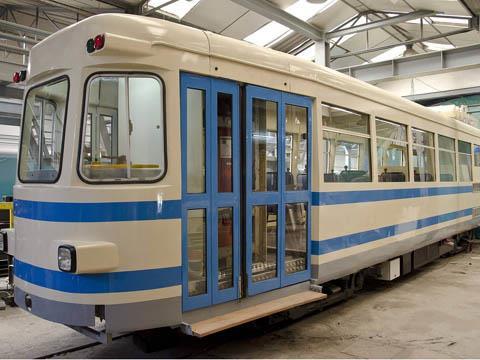 SPAIN: Metre-gauge operator FEVE has unveiled a tram powered by two hydrogen fuel cells that can carry between 20 and 30 passengers at up to 20 km/h.
The prototype was built at the company's Pravia workshops by Fenit Rail (in which FEVE holds a 37·5% stake), and it is hoped that it will enter service in Asturias next year.
Developed at a cost of €1m using a 14·3 m Series 3400 car originally built for SNCV of Belgium and later operated by FEVE in Valencia, the prototype vehicle weighs 20 tonnes. It is powered by two 12 kW fuel cells, supplied with hydrogen from a rack of 12 canisters containing 105·6 m3 of the gas.
Current is fed to four asynchronous AC traction motors, each rated at 30 kW. Energy produced during regenerative braking is stored in three Maxwell HTM125 supercapacitor modules or lithium-ion batteries rated at 95 kW.
Power equipment was designed by CIDAUT, a transport and energy research and development centre formed in 1993 to draw upon the expertise of the University of Valladolid. Funding for the project was provided by the Asturias regional government.