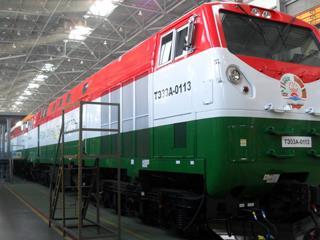 TAJIKISTAN: State railway Rohee Ohani Tojikiston has begun taking delivery of six GE Transportation TE33A Evolution locomotives manufactured in Kazakhstan.
GE Transportation's main US plant in Erie supplied a single TE33A to Mongolian Railways in 2009, but the Tajik locomotives ordered in November 2011 are the first to be exported from the Astana plant where the GE/KTZ Lokomotiv joint venture is manufacturing locomotives for Kazak national railway KTZ.
The six locomotives are being supplied in three batches for delivery to Dushanbe-1, Qurghonteppa and Khujand by the end of March. They are identical to the KTZ locomotives, other than the livery which is based on the Tajik flag.
Private freight operator Estonian Railway Services is currently testing a TE33A in Estonia to evaluate whether the design would be suitable for replacing its locomotive fleet. 'The Evolution is a new-generation locomotive providing savings in operational expenses and reducing emissions, both factors which are of utmost importance to a logistics company', according to ERS Chairman Arnout Lugtmeijer.