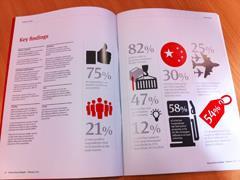 INTERNATIONAL: Optimism is returning to the global rail industry following the economic downturn, according to the results of the fifth Way Ahead survey of the transport industry conducted by legal practice Norton Rose Fulbright.
The survey, which was launched at an event in London on February 26, received 850 responses from people active in the rail, shipping and aviation markets in 90 countries, of which around half were in Europe. In the rail industry, 81% of respondents believed that 'current market conditions are positive for their sector'. Half of respondents believe that new commercial opportunities are emerging in the rail sector, while 85% expected freight and passenger volumes to grow in the years ahead.
Asked about the impact on their business or sector of the introduction of new high capacity and/or high speed assets, 42% of rail respondents felt that this would 'open the way to opportunities for all in the sector', while a further 31% responded that this would be a 'natural and beneficial development'. Just 6% felt that it would risk the creation of overcapacity, compared to 11% of aviation respondents and 30% in maritime.
While rail participants regarded inadequate infrastructure as the most significant challenge to the future efficiency of their business (27%), 21% believe the greatest challenge to be a lack of suitably qualified people.
'The skills challenge was highlighted very strongly in the comments which were submitted alongside the survey responses', explained Gordon Hall, Transport Consultant at Norton Rose Fulbright. 'This does not just cover engineering skills, but also professional services. There were some comments calling for the establishment of specialist transport financing institutions, for example.'
The Way Ahead survey was distributed to rail industry players with the assistance of the Railway Gazette Group.